AMCC SANCTIONED EVENTS CALENDAR 2017
The following are the officially sanctioned events of the AMCC. Each member club holds multiple events during the year in addition to its sanctioned event. To find out about these other events, check the member club's calendar on its web site.
JANUARY

January 13 - 15 CENTUAR MC — Mid Atlantic Leather 2017 (MAL 2017), Washington, DC.
MARCH


March 3 - 5 PENNSMEN — 40th Anniversary the return of KCR in 2017, to be held in Harrisburg, PA.


March 4 AMCC — 183nd Meeting of the Council of AMCC, held during the 40th Anniversary of the Pennsmen.


MAY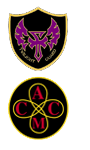 May 19 - 21 TWILIGHT GUARD — Leather, Feathers and Bears!, Twilight Guard's 22nd Anniversary Leather Weekend, Cheery Grove, Fire Ilsand, NY.

May 20 AMCC — 184th Meeting of the Council of AMCC, held during the 22nd Anniversary of the Twilight Guard
JUNE

June 9 - 11 LONG ISLAND RAVENS — 25th Anniversary, Leather Ball XXV, Belle Verde, Deer Park, NY.
JULY

July 28 – 30 TBLC of VIRGINIA — The Jungle Book, Annual Bears in the Woods Campout, Burkeville, VA
SEPTEMBER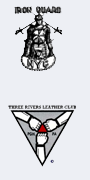 September 16 IRON GUARD BC — Anniversary Dinner, New York, NY
September 29- October 1 THREE RIVERS LEATHER CLUB — 26th Anniversary and Pittsburgh Leather Pride weekendm Pittsburgh, PA.


NOVEMBER


November 3-5 COMMAND MC — Mr. Maryland Leather, Baltimore, MD.
November 10-12 HARBOR MASTERS OF MAINE — 35th Anniversary Sail Away, Portland, ME.

November 11 AMCC — 185th Meeting of the Council of AMCC, held during the 35th Anniversary of the Harbor Masters of Maine
November 25 BUCKS MC — 43nd Annual Santa Saturday,held at the Paradise, in Asbury Park, NJ.
DECEMBER

December 2 EMPIRE CITY MC — 54nd Annual Toy Drive Holiday Party.
AMCC SANCTIONED EVENTS CALENDAR 2018
JANUARY

January 12 - 15 CENTUAR MC — Mid Atlantic Leather 2018 (MAL 2018), Washington, DC
MARCH

March 23 - 25 LONG ISLAND RAVENS — 25th + 1 Anniversary — Tarnished Silver, Brentwood, NY
March 24 AMCC — 186th Meeting of the Council of AMCC, held during the 26th Anniversary of the Long Island Ravens
MAY

May 18 - 20 EXCELSIOR MC — Lust for Life — Erector, Cheery Grove, Fire Ilsand, NY

JULY

July 27 - 29 TBLC of VIRGINIA — Annual Bears in the Woods Campout, Burkeville, VA
OCTOBER

October 5 - 7 KNIGHTHAWKS OF VA — 25th Anniversary Weekend, Norfolk, VA
NOVEMBER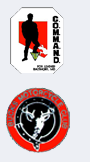 November 2 - 4 COMMAND MC — Mr. Maryland Leather, Baltimore, MD
November 24 BUCKS MC — 45th Annual Santa Saturday, held at the Paradise, in Asbury Park, NJ
DECEMBER

December 8 EMPIRE CITY MC — 55th Annual Toy Drive Holiday Party
For rule and regulations regarding AMCC Sactioned Events please see AMCC Documents Page: Articiles of Agreement: Article VIII Sactioned Events