NEWS from MEMBER CLUBS & COUNCIL
LABOR DAY WEEKEND CELEBRATION
July 2014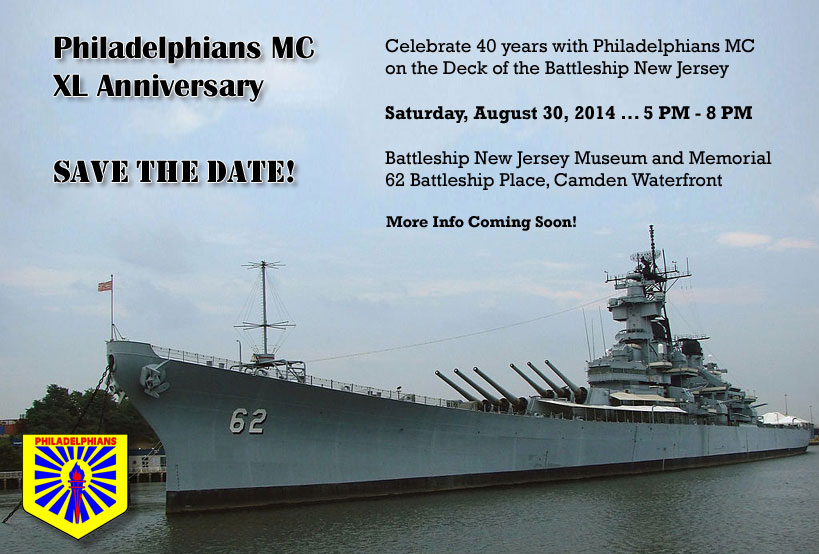 Philadelphians MC invite you to join them on Saturday of Labor Day weekend, August 30, 2014, to celebrate our 40th Anniversary dinner on the deck of the Battleship New Jersey. The party will continue later that night at the AMCC All Club Bar Night at the Bike Stop. But that's not all!  Sunday will feature an afternoon and evening of surprises, including parties and games hosted by a variety of clubs from both near and far!

Any clubs interested in hosting a mini-event such as a cocktail party or other fun shenanigans, please contact the Jim of the Philadelphians MC.
 
A special discounted hotel rate is available at the Holiday Inn Express, just a block or so from the Bike Stop (and the bathhouse).  The discounted rate is good for any combination of Friday, Saturday or Sunday nights.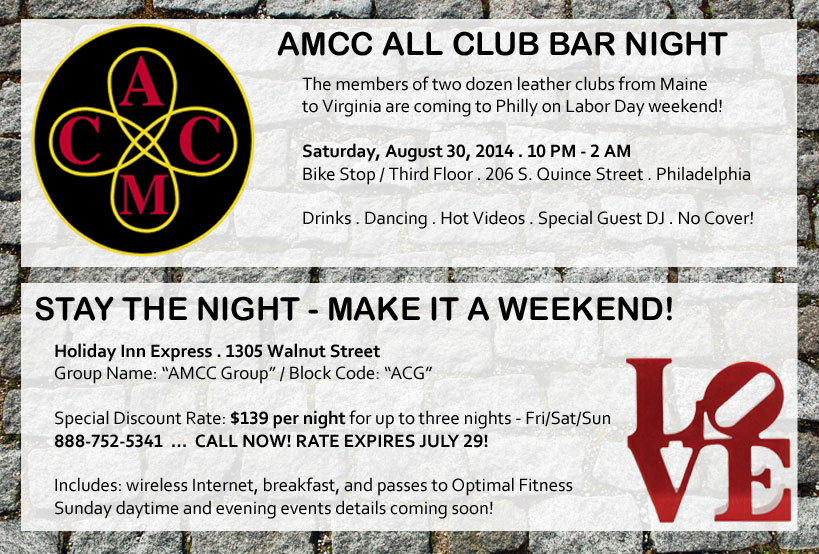 ---
PITTSBURG IS ADDED TO THE AMCC MAP
May 2013
The 173rd Meeting of the AMCC Council was held during the first leather weekend run held by the Twilight Guard (New Canaan, CT) that is correct, the club from the constitution state is celebrating their eighteenth year of organization, but in all it's years of activities, have never held a run before this year. Comically enough the Twilight Guard themed there first run "Pop Goes The Cherry!" which was held pre-memorial day weekend in Cherry Grove, Fire Island. Despite obvious evidence of damage from the 2012 Superstrom Sandy, the residences and business owners where in good spirits and where well on there way to be ready for the summer season.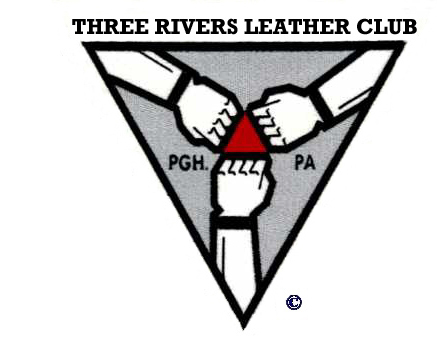 AMCC is proud to announce that during the 173rd meeting of council, lead by the newly elected executive board, Joe A. (Long Island Ravens MC) President, Jo Ann W. (Pennsmen) Vice President, Victor S. (Excelsior MC) Secretary, and Butch F. (Harbor Maters) Treasurer and sixteen member clubs in attendance, elected Three Rivers Leather Club to be the newest member of the Atlantic Motorcycle Coordinating Council. Three Rivers Leather Club hails form Pittsburg and will join Bucks MC, Ne PA Leathermen, Pennsmen, Philadelphians MC and Reading Railmen, making the leather club from The 'Burgh, the sixth currently active club in council from the state of Pennsylvania.
---
DESTINATION PHILADELPHIA
January 2013

The Pocono Warriors will be holding there 35th Anniversary in the city of the Liberty Bell, Philadelphia, and will host the 171st meeting of the AMCC. The PDF provided (CLICK) here gives more details of the upcoming Pocono Warriors weekend events.
---
IS EVERYONE READY TO OCCUPY THIS?
April 2012

"It's that time once again!" The Centaur MC are in high gear planning Olympia XXII, which will be held over the Labor Day weekend, Friday, August 31 through Monday, September 3, 2012 at a closely guarded campsite in Southeast Pennsylvania (wink). The Centaurs are planning a fun filled weekend with some of the fan's favorites regular (and irregular) games and activities – including Jeopardy and Quit-Itch (or should that be jock-itch? Either way wicked fun!), play spaces, the taverna (otherwise know as the snack bar), cocktail parties, motorcycle rides and other assorted lunacy.
Applications have been mailed out to AMCC Member Clubs, but are also available for download at Centaur MC Olympia website.
You can also keep up with the latest news and pre Olympia gossip on the Centaurs Olympia Group Facebook Page.
Olympia is, of course, an AMCC sanctioned event and many of the Member Clubs can be found there. Think of it as summer camp for Leather men (and woman) meets family reunion over a four day weekend. There are also many GDI's in attendants and some who haven't experience the fun of camp, so don't forget to tell your friends about this unique experience, since it only happen every other year.
The Centaurs hope you you will be able to join them and are looking forward to seeing old and new friends at camp Labor Day Weekend!
---
IN 3... 2... 1... AMCC LAUNCHS NEW WEB SITE
February 2012

AMCC is proud to announce the launch of the organization's new and improved website. It is focused on improving how people connect with the member clubs of the Council, as well as getting information about Council members.
The website has an updated color scheme and design, which has been enhanced with interactive elements to engage surfers visiting the site. The new website design was created by Sean Campbell of the Twilight Guard who volunteered his time and services for construction of the updated website.
The website is now more comprehensive and has easy-to-use navigation. Added features include a news section to provide clubs with another channel for the latest news and announcements of club affairs, as well as improved calendar features to provide clubs and viewers with better online service. You are welcome to browse Council's new website; please let us know your feedback.
---
OPERATION TEA ROOM
February 2012

For thirty-eight years Philadelphians MC, Philadelphia's longest-running gay men's leather club, has always made fundraising for local and national charities a priority. Since 1974 the club has raised over $55,000 for non-profits in the Philadelphia area and beyond.
In 2012 the club has decided to focus their fundraising efforts on one special project, a unique endeavor that has been code named Operation Tea Room.
The William Way Community Center is open seven days a week and is used by over 2,500 members of Philadelphia's LGBT community every month. The building is architecturally spectacular, with more of it being improved and refurbished each year.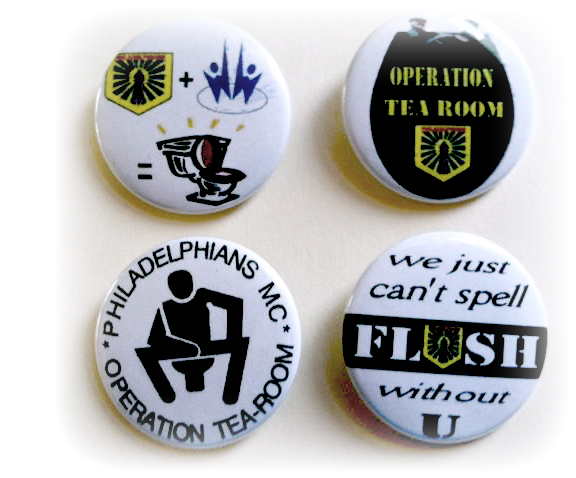 To support the ongoing restoration of the building, Philadelphians MC has decided to sponsor the renovation of a restroom, after which it will be re-christened and forever known as The Philadelphians MC Restroom.
This restroom, located in the side stairwell near the ballroom, has definitely seen better days. It desperately needs a facelift. Recently the club met with the center's Executive Director, Chris Bartlett, to pitch the idea of Operation Tea Room.
Mr. Bartlett is very excited and somewhat amused about the project, while the members of the club are thrilled to help insure that future LGBT generations will always have a warm and safe place to go to the bathroom.
Throughout the spring and summer of 2012 Philadelphians MC will be holding numerous fundraisers to reach the goal of fully funding this historic renovation. The first event for Operation Tea Room was a fetish gear dance party held Saturday, February 11 at the Bike Stop (206 S. Quince Street).
For more details about upcoming fundraisers, and for more information about Operation Tea Room including exciting before and after construction photos, please visit www.philadelphiansmc.org. You can also support Operation Tea Room with purchase of pins (pictured above) for all your friends and tricks. Two dollars ($2.00) each, or two (2) for three dollars ($3.00). available at Philadelphians meetings and upcoming events.
Member Clubs of the AMCC are encourage to share and submit news and anouncements of their clubs activities and achivemnts on the AMCC website NEWS page. Member clubs can submit there news article, press release, annoucemnts, photographs and other related graphic material by e-mailing: News Page Submission